Snufkin
Is Snufkin the most popular Moomin?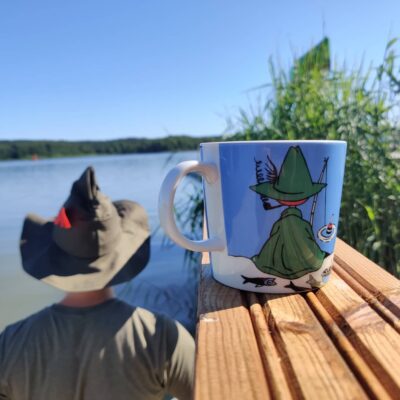 Snufkin – The nomad
Snufkin and Moomintroll are best friends. It seems that if the Moomin fans could pick a friend to hang out from the Moominvalley – most of us would also pick Snufkin as our friend.
As the first snow hits Moominvalley, Snufkin hits the road. He leaves every winter and return when snow starts melting in spring. Where does he spend his winters though?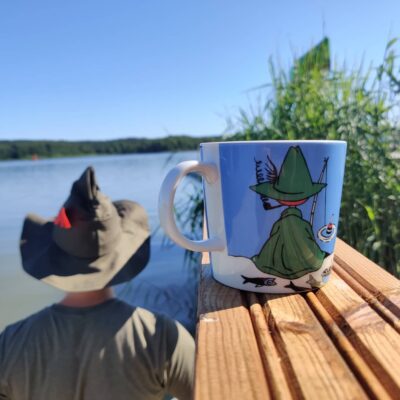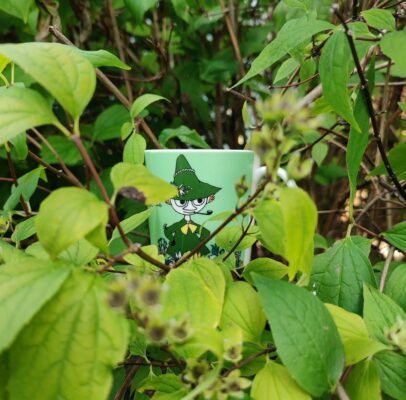 Snufkin's outfit
Our favorite Moomin is known from his green clothing. He is almost always wearing his cone shaped hat. The story goes he has had it since birth! Snufkin often has either his pipe or flute on his lips and might be carrying a fishing rod whether he is fishing or not. Sometimes Snufkin's hat has flowers, often just a single feather though. He is often wearing a scarf, even during summer.
Besides the outfit, Snufkin can be recognized from orange or brownish hair and brown eyes.
He must be the most laid back Moomin character. Snufkin lives alone, but does not mind to be around the others either. He is calm, yet gets things done when needed.
Moominmugs
There are currently three different Arabia Moomin mugs, where Snufkin is the main character. He is also featured in several different Moomin mugs. These mugs are:
There are also other Snufkin Moomin products, such as glasses, bowls, plates and so on.
Snufkin Moomin info
Other names: Snusmumriken (swedish) Nuuskamuikkunen (finnish) Snusmumrikken (norwegian) Снусмумрик (russian) Włóczykij (polish) Snúður (icelandic) Snuisterik (dutch) סנופקין (hebrew) Nuuskmõmmik (estonian)
First Moomin book featured in: Comet in Moominland, which was published already in 1946! Written by Tove Jansson… of course.
Family members: Parents are The Joxter and Mymble's Mother. (Could be called Snufkin's Mother.) Which makes Little My his half sister and all those 34 Mymble's Mothers' nameless kids his half-siblings as well.
Background: The character is said to be based on Atos Wirtanen, who had some controversial views.
Hair: Brown or red headed, but in some stories he is bald. (This surprised me!)
Hobbies: Paying flute, playing harmonica and fishing.
Personal traits: Confident, calm, calculative and friendly.
He is also known to be quite a philosopher and a free spirit, some could describe him as a hippie. He is a wanderer and reminds me about mountain and rock climbers.